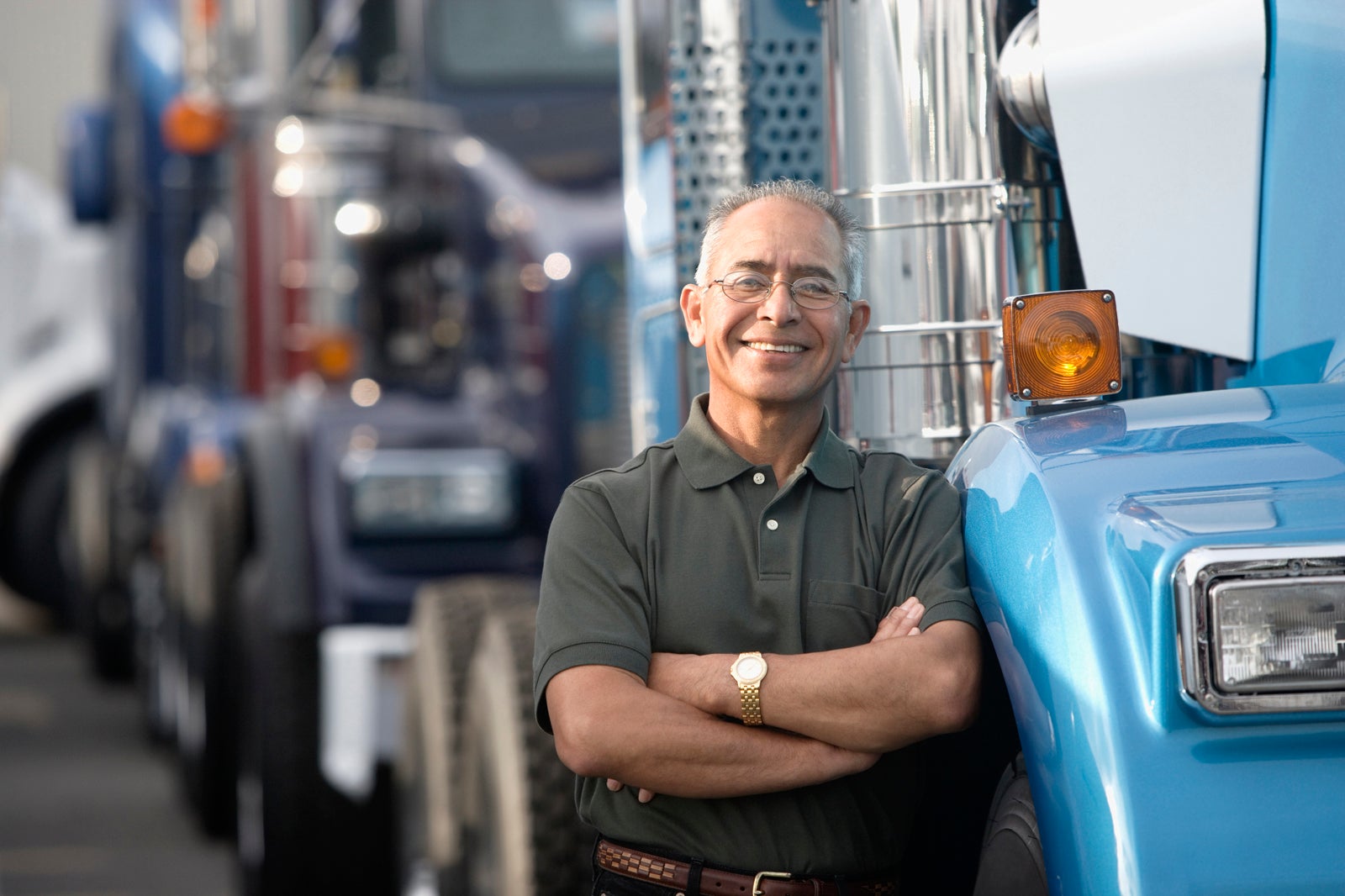 After spending a few years working for carrier services, many drivers decide to strike out on their own as independent owner-operators. There are several reasons for doing this, including the potential for a salary increase, but as with any business venture, becoming an owner-operator requires a careful, strategic approach.
However, while there are a lot of moving parts involved, there are many benefits to becoming an owner-operator trucker, regardless of how much experience you have. All it takes is a little planning and preparation and you'll be delivering loads before you know it. 
This guide will cover what you need to know to become an owner-operator trucker, from insurance to tools and services to help you keep your trucks on the road in today's fast-paced, competitive market.
Getting Started: The Basics
Before delivering your first load, you'll need three things: a rock-solid trucking business plan, proper insurance, and the right tools to get the job done.
The first step is to understand in clear terms what is required for your company to succeed. Your business plan should essentially lay out how you actually plan to operate, and needs to be based on research about the particular market(s) you intend to compete in. Think of this as establishing proof of your operation's viability. It should explain how you plan to find freight, whether you plan to use a load board or other services, whether you already have any leads or connections with brokers or shippers, and other relevant information. 
Your business plan also needs to include financing information, which is critical for new owner-operators to understand when starting out. One key part of the process is taking stock of the equipment you'll need to operate and how you plan to acquire it (whether through lease or purchase). Focusing on the financials early is important because not only it will affect your initial startup costs, but it can set you up for success down the line. For instance, when you figure out your per-mile operating expenses (driver pay, fuel costs, accessorial charges, etc.), you'll be able to ensure that you're choosing loads that actually earn a profit. 
If you expect to travel across state lines while delivering loads, you also need to apply for motor carrier authority. This is more than just your MC and USDOT numbers — the process also includes designating BOC-3 process agents for each state you'll be operating in, as well as filing all your federal and state permits, and IFTA, IRP, and Unified Carrier Registration (UCR) forms. The process of applying for authority already takes weeks, so getting it right the first time is critical. Mistakes or errors in your paperwork can cause expensive delays, which are difficult for a fledgling business to bear. 
When you let the team at DAT Authority handle your applications and permits, however, you can be sure that your paperwork has been meticulously combed for errors. Without any unexpected or costly setbacks on your horizon, you'll be able to focus on finding loads and growing your business. As an added incentive, DAT Authority includes a one-month free trial of the DAT load board — and a 10 percent discount if you decide to subscribe.
Next Steps: The Legal and Insurance Requirements
Once you've laid the groundwork with your business plan, you need to acquire insurance coverage and register your business. 
The Federal Motor Carrier Safety Administration (FMCSA) requires every trucking business to have at least $750,000 in primary liability insurance before it can begin operation. That said, most brokers actually require carriers to have a minimum of $1 million, so it often makes sense for new carriers to increase their insurance coverage and, in so doing, increase their opportunities to make a profit. 
The last thing to take care of is registering your business as an LLC with your state's website. The trucking industry tends to be much more regulated at the federal level than other markets, so the price to register your company with the state shouldn't vary too much. 
If you're wondering, "All in, how much does it cost to become an owner-operator?" — note that it depends on your situation. The final cost of opening your own business will be determined by a number of factors, including: 
Whether you already have a truck and equipment 

Whether you'll be purchasing or leasing a truck and equipment

Registration and formation documentation ($900 to $1,500)

IRP plates ($500-$3,000 per truck)

Heavy Vehicle Use Tax and permit ($100-$600 per truck)

State-specific taxes 
All told, $5,000-$10,000 is fairly common if you already have equipment. If you're purchasing used equipment, $30,000 is a much more typical figure.
On the Road: Services to Stabilize Your Company
Once you've jumped through the legal and bureaucratic hoops, you're ready to start delivering freight! The only thing is — you have to know how to find loads. What are new owner-operators to do if they don't have preexisting relationships with brokers or shippers?
Load boards like DAT are useful for new owner-operators for this very reason. DAT's load boards allow you to search the largest freight network in the industry for available loads in real-time — filtering by equipment type, lane, origin, destination, departure date, and other factors. Once you find a load that matches your criteria, DAT makes it simple to get in touch with the broker to start negotiating a price. 
Plus, DAT's load boards include additional features designed to make your life easier. If your search doesn't turn up any results, the system allows you to set an alarm with just a few clicks so that you'll be notified the moment a match becomes available. DAT's premium load board subscriptions even include an automatic triangular-routing feature to help you take advantage of nearby lanes to minimize deadhead and keep profit margins up. 
The DAT One app is another useful resource, allowing you to check fuel prices and find nearby truck stops, rest areas, and parking. You can also search for loads based on your current location, get turn-by-turn directions, and even look up dock information.
As an owner-operator, it's also important to think about how you'll be managing your finances. Freight brokers typically pay 30 to 45 days after you've delivered a load, which can be a long time for small businesses with bills and operating expenses to wait, especially if they don't have a line of credit to fall back on. Freight factoring is a service that can make a world of difference for new trucking businesses, as it allows you to get paid quickly, often within one or two days. Freight factoring services take a small percentage of the invoice as payment for advancing your funds (3 percent off the top is pretty typical, but there might be some degree of variation between providers). Getting paid in advance helps you get back on the road ASAP, ready to deliver loads without having to worry about covering on-the-go expenses.
Fuel cards are another service that can benefit owner-operators, especially when paired with invoice factoring. Getting a fuel card will give you discounts at the pump and also allow you to charge fuel now and pay for it later. By delaying some payments while factoring your invoices, you should be able to build up a decent revenue stream in case unexpected expenses come up.
Laying the Groundwork for Success: Running Your Business
Once you have the business plan, the insurance, and the right tools, the next step is ensuring that your business remains successful and profitable. 
Knowing your market inside and out truly is the most important thing for owner-operators. It's not uncommon for business owners to get out of the business just as quickly as they got in. In most cases, this is because they didn't take enough time to familiarize themselves with industry requirements or the on-the-ground practicalities of running a competitive operation. Getting your company off the ground is no walk in the park, but keep in mind that you're also laying the groundwork for how your business will operate and grow — take the time to educate yourself about what to expect. The good news is that there is plenty of information about how to start your own trucking company readily available online. YouTube in particular has a lot of resources on how to run a successful business. 
Understanding your finances is also important so that you can determine your per-mile operating expenses and make sure you're able to turn a profit. For instance, if you know that your fuel, driver pay, and other expenses add up to $1.25, then you should be looking for loads that pay more than that in order to make money. Understanding your target rates is key to building up a reserve that can be used to pay for maintenance costs and growing your business. 
It's also important to develop clear and effective procedures for how your trucking operation works. To put it in more concrete terms: even if you're just starting out with a single truck, you can make it a lot easier on yourself in the future by setting up your business so that, as you hire more people or purchase more trucks, you can continue delivering loads with minimal disruption — ultimately, you don't want growth to get in the way of your operations. Having established systems in place makes it easier for you, for new hires, and for any brokers and shippers, you work with. 
Finally, don't forget about staying up-to-date on all your permits, registrations, and anything else that's regulated by the DOT (e.g. driver qualification files, electronic logging devices, etc.). Drivers' licenses and medical cards will expire at different times, so you need to remain vigilant and ensure that everyone is qualified to work — no one needs a driver or truck out of commission because of some late paperwork. As an owner-operator, you're also responsible for filing your fuel tax returns four times a year. So whether you do it yourself or outsource the responsibility to a third party, make it a priority to keep your paperwork and filing processes organized. 
Take the Hassle out of Becoming an Owner Operator
To become an owner-operator with no experience isn't impossible — it just takes time and effort. However, when you take the initiative to understand your market, how your business needs to operate, and the right services to support your company, the process becomes much more streamlined and straightforward. 
Ready to get started? Get in touch with the experts at DAT today to learn more about their services for owner-operators.
Authority: Basic
Includes all federal fees