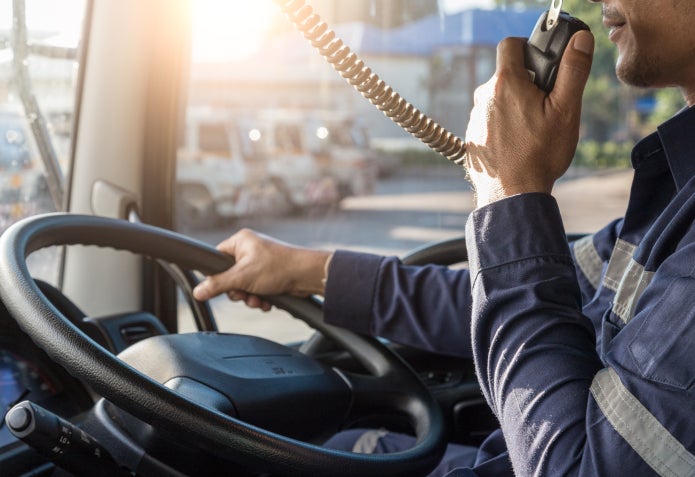 Trucking is an essential part of the economy, and truck dispatchers are vital to every successful trucking company. However, getting started as a truck dispatcher isn't as easy as it sounds. You'll need to navigate the ins and outs of legally registering your business, connecting with carriers, finding and negotiating loads, and more.
In this article, we'll go over the answers to several questions, including what does a truck dispatcher do? And how much do truck dispatchers make? We'll also break down how to become a truck dispatcher and find loads so you can start your dispatching journey off on the right foot.
What does a truck dispatcher do?
Truck dispatchers, also known as freight dispatchers, manage freight for carriers. They're often confused with freight brokers, but the two actually have different roles. Truck dispatchers only work with carriers, while brokers serve as middlemen between carriers and shippers. Essentially, brokers can represent the carrier and shipper simultaneously, while dispatchers are directly affiliated with the carrier and always work on their behalf. However, both brokers and dispatchers help carriers find loads faster.
So, what exactly do dispatchers do on behalf of carriers? They help carriers find and book freight using their connections, load boards, and negotiation skills, coordinate drivers, and keep track of shipments. Dispatchers also communicate with drivers about everything from traffic delays to delivery issues and are responsible for planning time-, fuel-, and cost-efficient routes and recording fuel and repair expenses.
The best dispatchers keep track of their carrier's favorite lanes, equipment specifications, and target freight rate, so they know exactly which loads to look for and how to negotiate with shippers. Some will even help with billing, reviewing drivers' logs, tracking drivers' hours, sourcing new drivers, and providing other back-end support tasks.
How much do truck dispatchers make?
Like most other professions, truck dispatching offers a range of incomes. What's more, there are a couple types of freight dispatchers: salaried dispatchers and independent dispatchers.
If you're a salaried dispatcher, you can expect to make an average of $39,830 annually, or around $19 per hour — no matter how many individual loads you handle over the course of the year. However, independent dispatchers are paid according to a different system.
As an independent dispatcher, you'll likely receive a flat per-load fee or 5-10% of the freight invoice, depending on your level of responsibility. Your monthly income may fluctuate, as you'll only receive money when your carriers successfully deliver loads.
Do you need a license to be a truck dispatcher?
While you don't need a formal license or certification to become a truck dispatcher, you will need a high school diploma or GED credential. Some companies prefer to hire people with associate's or bachelor's degrees, especially those with majors in logistics or supply chain management. However, there are also plenty of courses that can give you a better understanding of being a dispatcher and a leg up over the competition.
Beyond a high school diploma or GED, the only things you need to have to be a dispatcher are excellent communication skills, a high level of organization, and the ability to multitask and work under pressure. Ideally, you'll also be reliable and able to adapt to changing situations on the fly.
How to become a truck dispatcher
If truck dispatching sounds like the job for you, you can work as a truck dispatcher for an employer or launch your own business and work as an independent truck dispatcher.
Becoming a truck dispatcher for another company is a relatively straightforward process. You can search job boards to find truck dispatcher openings or approach carriers and inquire about open freight dispatcher positions.
On the other hand, if you want to become an independent truck dispatcher, you'll need to do more preparation. You'll want to:
Register your business
Before you can do anything, you need to name and register your business. Opt for a short name that leaves no confusion about what services you're actually offering, if possible. For example, instead of using A & B Trucking, pick something like A & B Dispatching or A & B Independent Dispatching. This will help carriers looking for dispatchers find you quickly while also ensuring that your business doesn't pop up for shippers searching for truck drivers.
After you've named your business, you need to apply for an Employer Identification Number (EIN) with the Internal Revenue Service (IRS) and decide how to structure your business. Most dispatchers choose to register their business as a limited liability company (LLC), but you can also register your business as a sole proprietorship, partnership, or corporation.
Build your online presence
Having a strong online presence is key to attracting business — especially if you're just starting out and can't rely on word of mouth. You'll want to have a website and some social media accounts to attract potential customers and showcase everything you're bringing to the table.
Make sure your website name is easy to remember, and clearly state what your business does on your website's homepage. Showcase everything you have to offer and highlight how you stand apart from the competition to get site visitors excited about working with you. Also, don't be afraid to share parts of yourself, rather than just your business, because carriers want to know exactly who they'll be working with.
Most companies also include testimonials on their website to further convince visitors to work with them. However, if you're a brand new dispatcher, chances are you won't have any previous clients who can speak to the quality of service you provide. Until you've worked with a few carriers and collected testimonials, you can include recommendations from others in the industry or write thoughtful blog posts that position you as an expert dispatcher.
Then, you should create a Facebook and Instagram account for your business. After all, there are 3.96 billion social media users in the world — and many of them are on Facebook and Instagram. Facebook alone was responsible for 25% of all digital ad spending in 2020, so taking the time to create social media accounts, develop ad campaigns, and join carrier Facebook groups can pay off in the long run. You can even publish videos about your business or dispatching in general to a YouTube channel to demonstrate your knowledge and establish yourself as a leader in the dispatching field.
Subscribe to a load board
As a truck dispatcher, you'll spend hours finding high-paying loads for carriers. With the help of a high-quality load board like DAT, you'll be able to find thousands of available loads across the country in a matter of minutes. In fact, DAT has the best load board in the country for truck dispatchers.
Each year, over 400 million loads are posted to the DAT load board, so you can quickly find relevant matches for your carriers, no matter where they're located or when they're ready to haul. You can easily search for loads by truck type, lane, origin, or destination without any limitations. Plus, you can save your searches to avoid the hassle of reentering information each time and configure alerts if you don't see a match. DAT will then notify you as soon as a load that matches your carrier's needs is posted. You can also create posts for your carriers' trucks and let shippers and brokers come to you.
Connect with carriers
The trucking industry revolves around trust and relationships, so it's important to start making connections with carriers, shippers, and brokers as soon as possible. Over time, you can build healthy, long-standing, mutually beneficial business partnerships.
However, connecting with others in the trucking industry can be intimidating and difficult if you're new to dispatching. That's where DAT can help. The DAT Directory is included for free with DAT load board subscriptions and makes it easy to find quality business partners and let them know about your dispatching services. You can use the contact information provided to reach out to potential partners and start negotiating on behalf of your carrier.
Continue to learn
Life's all about learning and growing — and so is dispatching. Finding success as a dispatcher, independent or otherwise, means continuously developing your dispatching skills and learning from your mistakes. Having a mentor who can answer your questions and share their experiences can also help you and your business grow.
You can also pursue a more formal education by taking a class on truck dispatching. These classes will often cover how to register your business, create your website, maximize your social media presence, utilize load boards, and more.
Find trucking dispatch software
Having the right trucking dispatch software can make a world of difference when it comes to finding loads and increasing profits. If you're looking for a powerful trucking dispatch software solution, we recommend using LoadOps Carrier TMS.
Not only is LoadOps TMS intuitive to use, but it also gathers everything you need in a centralized location so you can quickly find loads for your carriers and raise your profits. LoadOps TMS' live dispatch board makes monitoring driver schedules and tracking loads simple, and it can help you plan drivers' trips more efficiently. Plus, it's available through the app, so you can dispatch no matter where you are.
LoadOps TMS will also seamlessly integrate with your existing systems, from electronic logging devices to the DAT load board to accounting systems like QuickBooks. LoadOps TMS will even provide notifications for business-critical statuses. For example, the system will alert you when loads are ready for dispatch, drivers are available, documents are missing, or there are unexpected delays on the road so you can adapt on the fly.
It also offers an excellent return on investment — especially if you have a small dispatching business. After all, if you have one or two users on the web app and ten or fewer drivers on the mobile app, LoadOps is 100% free. Even if you work with more drivers and need to upgrade to LoadOps Pro, LoadOps TMS still offers great value for money.
Get ahead of the competition with the #1 choice for truck dispatchers
Whether you're trying to join another company as a truck dispatcher or become an independent truck dispatcher, dispatching isn't easy work. However, having the right tools at your fingertips can help you quickly get your dispatching business off the ground.
More than 400 million loads are posted to DAT each year, so you'll be able to easily find loads for your carriers. Plus, with the help of DAT's rate data, triangular routing suggestions, and more, you'll be able to get your carriers the most cost-effective rates and routes every time.
Whether you work for someone else or have your own truck dispatching business, the DAT load board — and other tools like DAT Authority and LoadOps Carrier TMS — can help you exceed carrier expectations.
Use DAT One Select to help your dispatching business thrive!
DAT One Select is a powerful tool for any dispatcher's arsenal. Not only does One Select enable you to see market demand and conduct searches simultaneously, but it also provides better-paying routes, allowing you to go beat the competition.
Sign up today to set your dispatching business up for success!
DAT One Select
Formerly Power Select