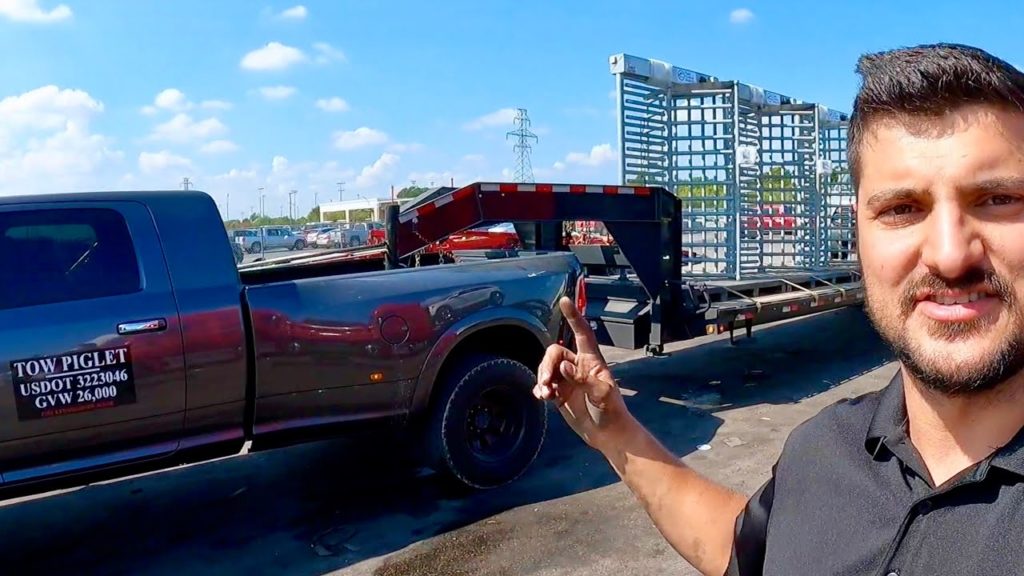 By Alex Smith, Owner of the TowPiglet channel on YouTube 
If you're considering starting up a hot shot trucking business, there's a lot you need to know. In many ways, the requirements for hot shot carriers are similar to those for traditional truck drivers. But there are also plenty of challenging new demands that hot shot drivers face, and it's important to understand exactly what you're getting into.
To help you decide if hot shot trucking is right for you, I'll walk you through some of the most common questions about the industry. With the right info, you can make an informed decision about your business and get the most out of your investment. 
What's unique about hot shot trucking? 
Hot shot trucking offers plenty of benefits that could be appealing to new and experienced carriers alike. With the opportunity to transport loads using a smaller vehicle, drivers can save money on insurance and overhead. If you're willing to pick up time-sensitive freight at a moment's notice and deliver smaller loads in short time frames, hot shot trucking could be right up your alley. 
Hot shot freight is a diverse category, usually including loads that need to be delivered for time-sensitive projects. If a construction site needs a specific piece of equipment to stay on schedule, or if a farm requires a specific tool to harvest on time, there's a good chance they'll call up a hot shot driver to deliver their freight ASAP. 
There's a wide range of freight types you might encounter as a hot shot driver, including LTL freight or partial loads. Because your loads need to get to their destination as quickly as possible, hot shot trucking requires you to make the most out of your time — which means minimizing your travel distance and maximizing your hours. 
Most super-expedited loads are small, so hot shot truckers don't need the overhead of a Class 8 semi. As a hot shot driver, you'll probably be driving a large pickup with a trailer for your hot shot freight. The standard truck for hot shot carriers is a dually pickup truck with a flatbed trailer. For securing freight, you'll also need to invest in basic devices like straps (at least twenty), chains, and tarps that help you protect your loads while on the road. 
How do you get started in hot shot trucking? 
When you're getting started in hot shot trucking, you choose one of two routes — either you'll become an owner operator, or you'll lease your hot shot truck from a larger freight transportation company. Leasing will cost less upfront than buying your own hot shot truck, but leasing also offers less opportunity to grow your business over time. As an owner-operator, you'll be completely on your own, and you'll need the right strategy to get off the ground. 
As an owner-operator, there's a lot you need to take care of before starting a hot shot trucking company and transporting freight commercially. First, you'll need insurance. Your owner-operator license and insurance quotes depend on the state where you're starting your business. With insurance requirements varying across the country, you need to understand exactly how much insurance is required by your state's transportation laws. In general, you'll pay more for insurance as a new driver than if you're an experienced driver since insurance companies can bet on a more experienced driver's history.
Once you're insured, you'll need to get a Medical Examiner's Certificate, also known as an ME Certificate. For carriers of all different kinds of freight, your state transportation board will require an ME Certificate before you can get your commercial drivers license (CDL). An ME Certificate contains basic self-reported medical information like if you have any disabilities or conditions that might make it hard to drive. You will also need to report whether you plan to spend some, all, or none of your time on the interstate. A medical card usually costs around $120, a necessary fee for any carrier who's just getting started. 
What legal requirements are there for hot shot trucking?  
Getting started in any new trucking business requires several different registration forms, and hot shot trucking is no exception. Many of these requirements seem like red tape and bureaucracy, but it's crucial for any new carrier to know the forms and registrations you need to legally operate a commercial vehicle. 
The process of getting a Motor Carrier (MC) number — and getting government approval to run your trucking business — is called gaining operating authority. Authority allows you to run a freight hauling business with a proper legal foundation. To get authority, you'll need to get a few different certifications. These are: 
Your MC number.

Your motor carrier (MC) number is the bedrock of your trucking authority, allowing you to transport freight across state lines. You'll need to apply for an MC number through the Federal Motor Carrier Safety Administration (FMCSA). 
Commercial insurance.

You can get an MC number once you have commercial insurance for your vehicle. For hot shot trucks, commercial insurance usually runs between $1,000-$2,500 per month. This is less than it would be for traditional Class 8 semis, but still a major part of your monthly budget. 
The EIN.

Your employer identification number (EIN) is required to register your business for tax purposes. You can sign up for an EIN number via an online application. 
Your USDOT number.

The US Department of Transportation (USDOT) number ensures the federal government can track your trucking business in its database. Before you get authority, you'll need to register with the USDOT and receive a USDOT number.  

State permits and requirements. There are plenty of other requirements that vary by state. A handful of states require you to register your vehicle separately when you're transporting freight within state borders, and some states even charge a small fee. You'll also need to register for BOC-3 agents in any state where you'll be operating a commercial vehicle. 


It's clear to see that getting authority isn't a simple task. For new truck drivers, letting professionals handle the authority application process can be a worthwhile investment. Paying for a service to apply for all these certifications on your behalf can cut down the time you spend on the application process, and it will ensure there aren't any errors in your materials. 
To make the legal requirements for hot shot trucking as easy as possible, I recommend using DAT Authority, which guides you through the process without a hitch. For a flat fee, DAT Authority offers expert advice on starting up your trucking business, and they'll file all your transportation permits for you. Getting your MC number with DAT Authority can be a great way to save time — and, most importantly, money — when you're getting started. 
Can you make good money in hot shot trucking? 
Many carriers wonder, "how can you make money hot shot trucking?" The hot shot business is a competitive industry, and starting a hot shot company comes with financial risks. At first, it can be a challenge for owner operators to stay ahead of the competition. But there are plenty of advantages to owning your own trucking business that make it worthwhile. 
The smaller financial investment of hot shot trucks, compared with traditional semis, is a major draw for new truck drivers. If you haven't carried freight before, hot shot trucking could be a good entry point into the industry, since hot shot vehicles have lower operating costs and lower insurance costs than Class 8 semis.
There are certainly some disadvantages to hot shot trucking, however. It's important to remember that every new business venture involves tradeoffs. Hot shot drivers often work long hours over the weekends, since weekend hot shot trucking tends to pay more. Another common complaint about hot shot trucks is the competition — since hot shot drivers are in high demand, and brokers need freight delivered ASAP, you'll always be competing with other hot shot drivers for freight. 
Starting any business is a risk, and hot shot trucking is no exception. But, when you manage your hot shot business effectively, the risk can pay off with a comfortable income stream. In fact, when you do it right, hot shot trucking gives you the chance to make more money than you would in a typical 9-to-5 job.
How do you find hot shot trucking jobs and loads? 
Since hot shot driving is such a competitive industry, carriers will need ways to stay ahead of the competition. Finding loads quickly and viewing as many available loads as possible in your area is key to getting freight fast. If you're wondering "where can I find hot shot trucking near me?" you've come to the right place. 
The most effective way to get loads is by using a load board. I recommend using the DAT load board, which is a super-database of loads across the country. The DAT load board has more loads than any other load board, and it posts millions of loads every year that aren't available anywhere else. With exclusive listings posted fast, you can stay ahead of the competition and get loads wherever you are. 
The DAT One mobile app is another way to get ahead of the competition, with a detailed view into the trucking industry from your handheld device. Wherever you have internet access, DAT One lets you find freight on the go, connect with brokers and suppliers, and get updates on the freight market. 
Get informed before you get loaded
Hot shot trucking is a popular way to get started in the trucking business, with lower overhead costs and faster delivery services. But there are plenty of truckers who stay in the hot shot industry throughout their whole careers. When you put in the time, hot shot freight can be a reliable source of income and a great option for a career in trucking. 
Before you start your hot shot business, it's crucial to get informed. The experts at DAT can help you learn how to get authority, understand your load board options, and get your hot shot business up and running.