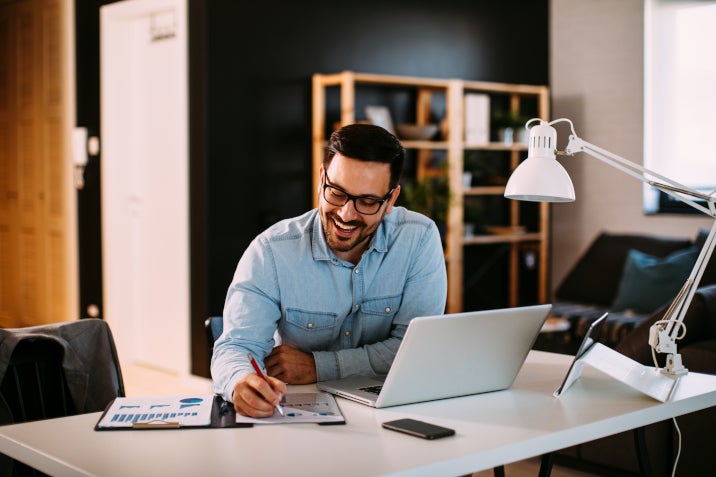 Starting and running your own trucking company gives you flexibility when deciding which loads to haul, which shippers to work with, and which hours to work. Plus, you'll take home a much larger share of the profits for each delivered load. However, becoming an independent owner-operator isn't easy.
It's normal to have many questions, from wondering how to start a trucking company to how to run a trucking company. The good news is that, with some thorough research, lots of hard work, and the right tools on hand, you can create and run a successful trucking company.
If it all seems a little intimidating right now, don't worry! This article will go over how to start and run a trucking company. Plus, we'll talk about the costs associated with creating and running a trucking company so you know exactly what you're getting into and how you can turn your new company into one that can thrive in today's competitive market.
How to start a trucking company
Becoming an owner-operator is rewarding, but you can't wake up one morning and have a functioning business by the afternoon. Instead, you need to prepare and take a strategic approach to your business. You should:
Develop a business plan
Running a business is hard, especially if you don't know what you're doing. Unfortunately, new business owners often find themselves overwhelmed — and out of the industry — due to a lack of research and planning. Before you do anything, sit down, conduct research, and create a business plan so you can hit the ground running.
Calculate your expected revenue, salary, and per-mile operating expenses to determine your target rates and consistently choose profitable loads. After all, if your costs constantly eat up your profits, you won't be able to set money aside for maintenance, upkeep, new vehicles, and future growth.
Ask yourself:
How will I get the necessary operating equipment? Will I lease it? Do I have enough savings to purchase it in cash? Do I need to get a loan?
How will I find loads? Will I use a loadboard or a broker?
Which areas will I operate in?
Do I need any special authorities or permits?
How will I handle invoicing, accounting, parking, and maintenance?
It might also be helpful to design systems for how you'll book your loads and communicate information with shippers or drivers. By setting up this infrastructure now, you can avoid disruptive growing pains in the future.
Get your CDL
Before launching your own trucking business, make sure you have your CDL and some driving experience. Not only will shippers have more confidence in you, but you'll also be more comfortable on the road.
If you're an inexperienced driver hoping to run your own business, starting off as a company driver is an excellent first step. You'll gain valuable experience, and your company may even put you through their training programs, cover the cost of CDL school, and help you jumpstart your career.
Meet trucking safety requirements
In addition to earning your CDL, there are several other things you'll need to do, including:
Obtaining your operating authority: If you need to haul freight across state lines, you'll need your operating authority from the U.S. Department of Transportation (DOT).
Obtaining your motor carrier (MC) number: You'll need to apply for an MC number from the FMCSA if you plan on hauling loads across states.
Applying for your USDOT number: You'll need to register with the FMCSA and obtain a USDOT number to use a commercial vehicle to haul loads in interstate commerce or transport certain hazardous materials.
Applying for international registration plan (IRP): Register for IRP on your state's transportation website.
Paying the heavy vehicle use tax (HVUT): If your truck weighs more than 55,000 pounds, you'll need to pay a heavy vehicle use tax.
Filing your form BOC-3: Name a process agent (someone who will be served on your behalf in legal proceedings) for every state you conduct business in on your Form BOC-3.
Applying for your international fuel tax agreement (IFTA) decal: If you drive in multiple states, you'll need to apply for an IFTA decal.
As you can imagine, there's a lot of paperwork involved, and one mistake can result in weeks of delays. If you need help, work with DAT Authority. DAT's experts will handle your applications and permits so you can concentrate on launching your business and finding the most profitable loads.
Obtain insurance
Before beginning operations, you'll need to have at least $750,000 in primary liability insurance to comply with the FMCSA's requirements. If you cause an accident that hurts someone or damages something, this coverage will kick in. However, it's worth noting that many brokers and shippers require trucking companies to have at least $1 million in liability coverage.
You may also want:
Cargo insurance to cover freight damage or theft.
Physical damage insurance to cover your truck if you're ever involved in an accident you aren't liable for.
Bobtail insurance if your truck is involved in an accident when not in the middle of hauling a load.
Register your business
You'll also need to register your business with your state. Many owner-operators register their businesses as limited liability corporations (LLCs), but you can also register your trucking company as a sole proprietorship, partnership, c-corp, or s-corp. Each has its own benefits and drawbacks, so consider consulting with an accountant if you aren't sure which business structure is best.
Get a truck and trailer
Last but not least, you'll need a truck and trailer.
If you plan on returning home or staying at a hotel each night, you might opt for a day cab. However, if you need to be on the road for long periods and don't want to regularly spend money on hotels, a sleeper equipped with a bed and fridge might be best.
Think about the kind of freight you'll haul when deciding which type of trailer to use. For example, if you plan on delivering dry freight, you'll need a dry van trailer. However, if you need to haul produce or milk, you'll need a refrigerated trailer.
How much does it cost to start a trucking company?
Now that you know how to start a trucking company, let's look at how much it will cost you.
If you already have a truck and trailer, expect to spend anywhere from $5,000 to $10,000. However, if you plan on purchasing used equipment, you may need to spend around $30,000, and if you want to buy new equipment, expect to pay a lot more. Of course, you can also lease equipment for a smaller upfront payment.
In addition to equipment, you'll need to spend $500-$3,000 per truck on an IRP plate, $100-$600 per truck for your HVUT and permit, and $900-$1,500 for registration and formation documentation. You'll also need to cover any state-specific taxes.
How to run a trucking company
Once you've set up your trucking company, it's time to get to work! You'll need to:
Find loads
One of the first things you need to do is find loads. Some companies resort to word of mouth, while others directly reach out to shippers or brokers. However, there's a far more practical solution: load boards.
The right load board can make all the difference for your trucking business. If you have access to a load board, you'll be able to view loads posted by brokers and shippers in real time — even if you don't have any prior industry connections.
There are many great load boards, but GetLoaded's experts believe the DAT One loadboard is the best. Not only does DAT have over 226 million new loads posted each year (many of which are posted exclusively to DAT), but you also won't have to worry about running out of searches or posts because DAT offers unlimited searching and posting. You'll also gain access to the DAT Directory, which will allow you to find quality business partners.
With the help of DAT's loadboard, advanced filters, and alert settings, you can find the perfect load every time and get ahead of the competition. With DAT, you can filter available loads based on your trucking equipment, departure date, origin, destination, and more, and set an alert if you don't find a match. You can even search for loads, locate the closest rest areas, check fuel prices, access turn-by-turn directions, and track loads on the go with the DAT One mobile app.
After finding a load, you can easily reach out and start negotiating based on the market data and rates for over 68,000 lanes included with DAT One. Some subscriptions also offer triangular routing so you can use your time on the road more effectively and keep profit margins up.
Buy fuel and cover other operating expenses
Once you've found a load and negotiated a fair price, you'll also need to pay for fuel. Fuel cards will give you a discount at the pump and more flexibility when paying. For example, some cards will allow you to fill up your tank and pay after receiving the payment from your broker. DAT has partnered with WEX to help owner-operators save on fuel at thousands of truck stops.
Factoring can also help minimize cash flow issues by getting money in your pocket in a reasonable amount of time. Instead of spending a month waiting for your broker to pay and struggling to cover your operating expenses in the meantime, factoring allows you to get paid quickly. Within a few hours or days, you'll receive the funds you're owed minus a small percentage off the top.
GetLoaded has found that OTR Solutions is a trustworthy factoring company with straightforward pricing. Within 24 hours of depositing your invoice, you'll receive money from OTR, and they'll take care of collecting payments from your broker. Plus, OTR is DAT's preferred factoring partner, so you can find factorable loads in your DAT load board.
Keep records and pay taxes
Every business needs accurate accounting and bookkeeping, and the trucking industry is no different. Unfortunately, bookkeeping isn't particularly exciting, and one extra zero in a spreadsheet or a lost paper invoice can significantly impact your operations and affect your taxes and deductions. Accounting software like Quickbooks or ATBS RumbleStrip offer automated features that reduce bookkeeping time and will enable you to access essential accounting documents from a centralized location.
Also, stay up-to-date on your permits, qualifications, fuel tax returns, and registrations. The last thing you want to do is run into trouble with the government because your medical card expired or you didn't file your fuel tax return on time.
As you can see, there are many moving parts to running a trucking company, so having software that centralizes everything is essential. We recommend LoadOps TMS, a robust yet user-friendly system that can easily integrate with other trucking management tools like the DAT load board and QuickBooks. As a LoadOps subscriber, you'll also gain access to features that can help you track invoices, log distances, and manage your accounts and business more efficiently.
How much does it cost to run a trucking company?
Running a trucking company takes a lot of work and money. The American Trucking Research Institute reported an average cost per mile of $1.64 for motor carriers in 2020, but every company is different. You'll need to take into account a variety of fixed and variable costs, including:
Your salary (and any other drivers' salaries and benefits)
Fuel
Insurance
Recurring truck and trailer payments
Truck maintenance and repairs
Permit and license renewal fees
Tolls and taxes
Meals and lodging
Start and grow your business with DAT
Starting a trucking company from scratch is no easy feat, but with time, effort, research, and the right tools at your disposal, you'll soon find your business taking off. With a powerful solution like DAT, its large load board, and its other services, you can start your business off on the right foot, stay ahead of the competition, find suitable loads at great prices, and maximize your profits.
Get your trucking company up and running with DAT's help!
When starting a trucking business, you want to hit the road ASAP. However, you can't haul loads until your paperwork is in order. Enter DAT Authority.
Our experts can help you do everything from obtaining your MC / DOT number to acquiring BOC process agents. Get started with DAT Authority today!