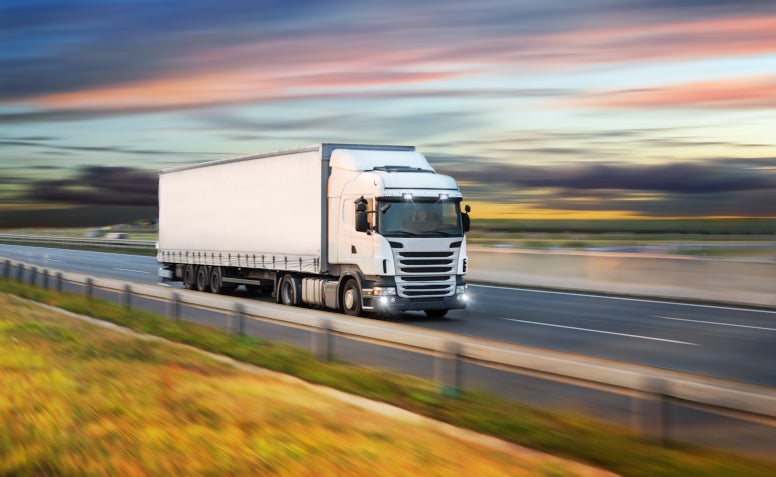 Trucking is a billion-dollar industry ($791.7 billion in fact, according to American Trucking Associations), serving as one of the most crucial legs of the U.S. economy. With businesses desperate to get their goods out to consumers quickly, and trucking companies needing fast, cost-efficient ways to find loads, it's a great time to get started in the transportation industry as a freight broker. Freight brokers play a crucial role in the industry, serving as the perfect intermediary to help both sides get to where they need to be.
If you want to work for yourself, set your hours, and have the potential to earn a good amount of money, opening your own freight brokerage could be the right choice for you. So how much does it cost to become a freight broker and how do you even get started breaking into the market? In this guide, we break down everything you need to know about growing your own business within the booming shipping industry — and how to become a freight broker with no experience.
What Does a Freight Broker Do?
Freight broker, truck broker, freight forwarder — it may go by many different names but they all serve the same purpose — to act as a liaison between shippers and carriers and provide value in the connection. Keep in mind that a freight broker is not a truck dispatcher. Brokers work with both shippers and carriers, acting as a neutral party that connects the two, whereas truck dispatchers work with just carriers alone.
The landscape of the logistics industry is constantly shifting and becoming more complex, paving the way for freight brokers to streamline the process of getting loads from point A to point B. Shippers looking to transport goods may turn to a freight broker to help them find a reliable carrier, communicate the status of the cargo during all points of movement, and solve route issues. Truckers rely on a freight broker to minimize deadhead miles by maximizing routes, submitting damage claims, and finding the hot-market loads that can provide the carrier with better profits.
So how does a freight broker make money in this transaction? Their profit lies in the difference between what they charge the shipper for their services and what the freight broker pays the carrier to transport the goods. This difference is known as a brokerage fee, and it can be anywhere from 15 to 20 percent.
The First Steps to Becoming a Freight Broker
With a projected growth of $41.60 billion between 2021–2025, the freight brokerage industry will undoubtedly continue to get new entrants. That means more competition, making it harder for new business owners to stand out. However, by arming yourself with the right tools, you can better position yourself for success.
1 – Training
The first step to becoming a freight broker is assessing your skills and background. Although you need little to no experience to become a freight broker, having a solid foundation and understanding of the industry is a major asset that can help you boost the productivity and profit of your business from the get-go.
A freight broker training class is a great way to get the tools you need to hit the ground running — and it can start as low as $599 when you sign up through DAT. Learning from industry experts offers you a chance to get hands-on experience, become familiar with current best practices, and, most importantly, it can give you the advantage you need to contend with industry veterans.
2 – Registering with FMCSA for Broker Authority
The next step to becoming a freight broker is to obtain operating authority by registering with the Federal Motor Carrier Safety Administration (FMCSA). If you're a first-time applicant and do not have a USDOT number, you must first register through the Unified Registration System (URS). Getting your motor carrier (MC) number from the FMCSA can take up to 4–6 weeks and costs $300 per application — and FMCSA does not refund these fees. If you apply for more than one type of property (for example, household goods and non-household property), you will need to pay $300 for each separate application.
If all this sounds a little overwhelming to handle on your own, you aren't alone! Luckily, there's a way to simplify the process. DAT Authority is a service that secures your DOT registration and FMCSA number on your behalf, reducing headaches and helping you build your trucking business from the ground up.
3 – Getting a Surety Bond
Before you can finalize obtaining your brokerage authority through FMCSA, you must acquire a surety bond either through an insurance company or through a company that partners with providers, such as DAT, which often offers special rates to customers.
A freight broker surety bond (known as a BMC-84 bond) helps protect both the carrier and the shipper and pays them in the event that you're unable to. FMCSA requires that brokers must hold bonds worth $75,000. The cost to you for that bond can range from as low as $750 to $10,000. The amount you pay will be a percentage of $75,000 (between one to 12 percent) and is dependent on several factors, including your personal credit and the state you're working from.
4 – Find a Process Agent & File with the FMCSA
Freight brokerages must have a process agent for every state they operate in, and the pricing for these can vary by state. A process agent receives court documents and acts on behalf of the brokerage in all legal proceedings or lawsuits.
Many process agents have offices that can serve all 50 states under one roof, meaning you'll only have one fee to pay. Again, the fee depends on various factors, including the state and which company you choose, but it can range from $25 a year to $150 and above.
5 – Insurance Coverage
Having contingent cargo and liability insurance will protect the goods carriers are transporting should anything happen and protects the brokerage from paying the cost of any losses or damages out of pocket. Certain providers, such as Loadsure, which has partnered with DAT, can offer fast, per-load insurance that can cut costs.
How Much Does it Cost to Become a Freight Broker?
There are some upfront costs that come with becoming a freight broker. It's important that you understand and account for these costs before beginning the process so you aren't caught off guard.
This quick reference guide is a good place to look when you start to configure your finances and begin the process of becoming a freight broker:
Freight Broker Start Cost Breakdown
Surety Bond: Ranges from $750 to $10,000 annually

Broker Authority through FMCSA: $300 application fee per each kind of authority

Process Agent: Ranges from $25 to $150 and above annually depending on the company and services you choose

Insurance: Ranges from $1,500 to $3,000

Training: $599 exclusive offer through DAT's partnership with Freight 360
Keep in mind that these are only some of the foundational costs you'll have to pay, and you'll need to have a liquid cash flow to maintain operating costs. However, there will be a gap between when you pay carriers and when shippers pay you, which is where your earnings come from.
Other overhead costs to keep in mind can include salary if you hire additional help, utilities, accounting or legal expenses, and more. These costs will continue to grow as your company scales up and can eventually include transportation management system (TMS) software to manage your clients, additional insurance coverages such as workers comp, and any other additional tools you find that boost the efficacy of your brokerage.
Getting Shippers & Maintaining Business
Once you're officially licensed and have your business plan in place, it's time to start brokering freight. That means finding shippers and carriers. Shippers rely on freight brokers to make connecting their goods to reputable carriers easier and handle all shipping logistics, while carriers trust in a broker to keep their routes productive by finding loads they can pick up.
Building a deck of shippers and carriers can be difficult, but there are a few steps you can take to make your processes more effective.
For Shippers
The beginning of your journey will involve a lot of cold calling. Look online for databases that provide shipper information and make your way down the list. Do some prior research on the shipper before calling, and prep yourself with information that can help get you through the door. Eventually, you will start to establish a rapport with a few clients. From there, you can continue building your contacts by asking for referrals.
For Carriers
In order to ensure your shippers remain satisfied clients and your freight brokerage remains profitable, you'll need to find reliable, fast, and dedicated carriers. Vetting trucking companies thoroughly is a good practice to safeguard your business against fraud. Using one of the best load boards in the industry to get access to carriers, shippers, and loads will help you make the most of your time and help ensure that the partnerships you broker are good ones.
DAT Can Get You There
If you're dreaming of becoming a freight broker and running a successful freight brokerage, DAT has the tools and the services you need to start your business with a competitive edge. DAT has trucking's largest on-demand network, and the DAT load board has more than 400 million new loads posted annually — including many that are exclusive to DAT. And with additional services such as DAT One, which combines 15 apps into one easy-to-access interface, DAT's solutions can be the crucial asset you need to expand your network and move freight without needing extra hands.
Building your own business is never easy — but with a little help and some guidance from DAT, you can be on the road to becoming a successful freight broker in no time — no experience required.
Build your freight broker business with DAT Authority's help!
Ready to become a freight broker but unsure how to navigate the paperwork or don't have any spare time? Don't worry; we're here to help!
Sign up for DAT Authority today to let us take some of the weight off your shoulders!